Healing Expressions is honored to offer this relaxing gathering to come together for soul care and encouraging connection to healing creativity!
Enjoy a casual time of compassionate support and exploration as you listen deeply to your heart's wisdom while exploring Therapeutic Collage.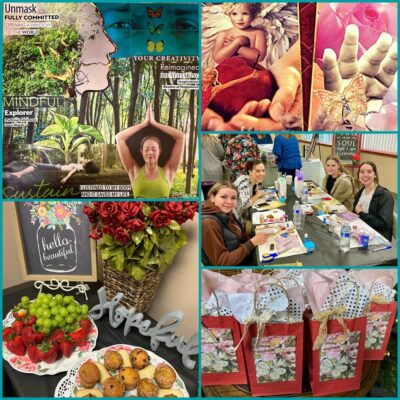 Lani's work, "Healing Expressions", began as a way to share in the form of art, words and images that which would encourage, heal, and inspire faith, authenticity, and transparency in the hearts of wounded souls. She shares from her own personal journey of emotional healing through the powerful medium of Therapeutic Collage. In an atmosphere of safety and acceptance, she invites participants to collect and collage simple yet personally meaningful images that encourage self-discovery, growth, transformation of emotions, and healing release.
No experience is necessary, and it included all supplies needed for this workshop! Enjoy beautiful refreshments, a gift bag of hopeful treasures, and the invitation to make create your own unique creations. Treat yourself, a friend, or another special soul in your life to share in this creative connection!
What Others Are Saying…
"It is with remarkable gentleness and understanding born out of authentic journey that Lani offers herself to guide others into a creative expression of their souls. Her distinctive use of the therapeutic collage process is a powerful means of transformation and healing. " 
– Brenda Keck, PhD
"From the moment you step into the room surrounded by Lani's art, you know you have entered sacred ground. Lani and her artistic expressions lead you to embrace and honor your own heart's story with courage and care. The experience opened our hearts a little wider, to feel more deeply and to see our stories in new form with more kindness and truth.  Lani brings as a healing sojourner so much care and deep compassion. The experience is truly an embrace of love on the journey!"             
– Susan Brock, Life Coach